Posts for tag: orthodontics
By Michigan Periodontics & Implants
November 30, 2019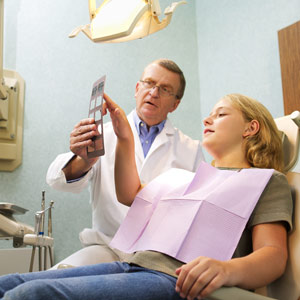 Teeth crowding is a difficult bite problem (malocclusion) that often involves the entire jaw structure to be evaluated. Normally occurring when the jaw doesn't have adequate space for normal tooth eruption, teeth coming in later put pressure on other teeth, causing them to develop improperly.
Crowding also makes it difficult to realign teeth with braces because there's simply not enough room for sufficient movement to take place. The solution may then be to consider the removal of some of the teeth to create enough space for orthodontic treatment.
Not just any tooth can be removed, however — we must first conduct a careful analysis to determine which can be removed to facilitate optimum movement of the remaining teeth without disrupting normal mouth function or affecting appearance. The teeth most frequently removed for this purpose are the bicuspids, located between the cuspids or eyeteeth (which are positioned directly under the eyes) and the molars, the largest teeth in the back of the mouth. Sometimes one premolar tooth on each side of the jaw can be removed without sacrificing future form or function.
There are a few important considerations we must keep in mind when extracting teeth for orthodontic reasons; perhaps the most important is preserving bone at the extraction site. Because continuing bone growth depends on the forces generated by teeth when we bite or chew, bone near a missing tooth socket will tend to diminish over time. If there's insufficient bone during orthodontic treatment, it may result in gum recession and root exposure — not only damaging to the teeth themselves but also to a person's smile appearance. To avoid this, we sometimes will consider inserting a bone graft, which will stimulate bone growth, into the empty socket immediately after extraction. While this isn't commonly done, it's being considered if the patient's bone is thin and a concern during healing.
We must also consider how to accommodate other, unrelated tooth loss to assure the final result is visually appealing. It may be necessary in these cases to maintain the space at the missing tooth site for a future restoration once the orthodontics is completed. This takes planning as well as the use of restorations like dental implants, bridges or partial dentures.
Regardless of your bite issues, the field of orthodontics has the appliances and techniques to overcome even the most complicated condition. When necessary, using procedures like tooth extraction can help turn an unappealing, dysfunctional bite problem into a beautiful smile.
If you would like more information on orthodontic teeth extractions, please contact us or schedule an appointment for a consultation. You can also learn more about this topic by reading the Dear Doctor magazine article "Tooth Removal for Orthodontic Reasons."
By Michigan Periodontics & Implants
September 26, 2018
Sometimes it seems that appearances count for everything—especially in Hollywood. But just recently, Lonnie Chaviz, the 10-year-old actor who plays young Randall on the hit TV show This Is Us, delivered a powerful message about accepting differences in body image. And the whole issue was triggered by negative social media comments about his smile.
Lonnie has a noticeable diastema—that is, a gap between his two front teeth; this condition is commonly seen in children, but is less common in adults. There are plenty of celebrities who aren't bothered by the excess space between their front teeth, such as Michael Strahan, Lauren Hutton and Vanessa Paradis. However, there are also many people who choose to close the gap for cosmetic or functional reasons.
Unfortunately, Lonnie had been on the receiving end of unkind comments about the appearance of his smile. But instead of getting angry, the young actor posted a thoughtful reply via Instagram video, in which he said: "I could get my gap fixed. Braces can fix this, but like, can you fix your heart, though?"
Lonnie is raising an important point: Making fun of how someone looks shows a terrible lack of compassion. Besides, each person's smile is uniquely their own, and getting it "fixed" is a matter of personal choice. It's true that in most circumstances, if the gap between the front teeth doesn't shrink as you age and you decide you want to close it, orthodontic appliances like braces can do the job. Sometimes, a too-big gap can make it more difficult to eat and to pronounce some words. In other situations, it's simply a question of aesthetics—some like it; others would prefer to live without it.
There's a flip side to this issue as well. When teeth need to be replaced, many people opt to have their smile restored just the way it was, rather than in some "ideal" manner. That could mean that their dentures are specially fabricated with a space between the front teeth, or the crowns of their dental implants are spaced farther apart than they normally would be. For these folks, the "imperfection" is so much a part of their unique identity that changing it just seems wrong.
So if you're satisfied with the way your smile looks, all you need to do is keep up with daily brushing and flossing, and come in for regular checkups and cleanings to keep it healthy and bright. If you're unsatisfied, ask us how we could help make it better. And if you need tooth replacement, be sure to talk to us about all of your options—teeth that are regular and "Hollywood white;" teeth that are natural-looking, with minor variations in color and spacing; and teeth that look just like the smile you've always had.
Because when it comes to your smile, we couldn't agree more with what Lonnie Chaviz said at the end of his video: "Be who you want to be. Do what you want to do. Do you. Be you. Believe in yourself."
If you have questions about cosmetic dentistry, please contact our office or schedule a consultation. You can read more in the Dear Doctor magazine articles "Beautiful Smiles by Design" and "The Magic of Orthodontics."
By Michigan Periodontics & Implants
January 01, 2018
Fans of the primetime TV show The Middle were delighted to see that high school senior Sue, played by Eden Sher, finally got her braces off at the start of Season 6. But since this popular sitcom wouldn't be complete without some slapstick comedy, this happy event is not without its trials and tribulations: The episode ends with Sue's whole family diving into a dumpster in search of the teen's lost retainer. Sue finds it in the garbage and immediately pops it in her mouth. But wait — it doesn't fit, it's not even hers!
If you think this scenario is far-fetched, guess again. OK, maybe the part about Sue not washing the retainer upon reclaiming it was just a gag (literally and figuratively), but lost retainers are all too common. Unfortunately, they're also expensive to replace — so they need to be handled with care. What's the best way to do that? Retainers should be brushed daily with a soft toothbrush and liquid soap (dish soap works well), and then placed immediately back in your mouth or into the case that came with the retainer. When you are eating a meal at a restaurant, do not wrap your retainer in a napkin and leave it on the table — this is a great way to lose it! Instead, take the case with you, and keep the retainer in it while you're eating. When you get home, brush your teeth and then put the retainer back in your mouth.
If you do lose your retainer though, let us know right away. Retention is the last step of your orthodontic treatment, and it's extremely important. You've worked hard to get a beautiful smile, and no one wants to see that effort wasted. Yet if you neglect to wear your retainer as instructed, your teeth are likely to shift out of position. Why does this happen?
As you've seen firsthand, teeth aren't rigidly fixed in the jaw — they can be moved in response to light and continuous force. That's what orthodontic appliances do: apply the right amount of force in a carefully controlled manner. But there are other forces at work on your teeth that can move them in less predictable ways. For example, normal biting and chewing can, over time, cause your teeth to shift position. To get teeth to stay where they've been moved orthodontically, new bone needs to form around them and anchor them where they are. That will happen over time, but only if they are held in place with a retainer. That's why it is so important to wear yours as directed — and notify us immediately if it gets lost.
And if ever you do have to dig your retainer out of a dumpster… be sure to wash it before putting in in your mouth!
If you would like more information on retainers, please contact us or schedule an appointment for a consultation. You can learn more in the Dear Doctor magazine articles "The Importance of Orthodontic Retainers" and "Why Orthodontic Retainers?"