Posts for tag: teeth grinding
By Michigan Periodontics & Implants
December 10, 2019
The fast-paced world of sports and entertainment isn't all glitz and glamour. These high-profile industries create a unique kind of emotional and mental stress on celebrities. For many of them, a way to "let off steam" is an oral habit known as teeth grinding.
Teeth grinding is an involuntary habit in which a person bites and grinds their teeth outside of normal activities like eating or speaking. It's common among young children, who usually grow out of it, but it can also affect adults, especially those who deal with chronic stress. If not addressed, teeth grinding can eventually wear down teeth, damage gum attachments or fracture weaker teeth. It can even contribute to tooth loss.
A number of well-known personalities in the spotlight struggle with teeth grinding, including actress Vivica Fox, model and TV host Chrissy Teigen, and star athletes Tara Lipinski and Milos Raonic of ice skating and tennis fame, respectively. The habit represents not only a threat to their dental health, but also to one of their most important career assets: an attractive and inviting smile. Fortunately, though, they each use a similar device to manage their teeth grinding.
Besides seeking ways to better manage life stress, individuals with a teeth-grinding habit can protect their teeth with a custom mouthguard from their dentist. Made of slick plastic, this device is worn over the teeth, usually while sleeping, to minimize dental damage. During a grinding episode, the teeth can't make contact with each other due to the guard's glossy surface—they simply slide away from each other. This reduces the biting forces and eliminates the potential for wear, the main sources of dental damage.
Chrissy Teigen, co-host with LL Cool J on the game show Lip Sync Battle, wears her custom-made guard regularly at night. She even showed off her guard to her fans once during a selfie-video posted on Snapchat and Twitter. Vivica Fox, best known for her role in Independence Day, also wears her guard at night, and for an additional reason: The guard helps protect her porcelain veneers, which could be damaged if they encounter too much biting force.
Mouthguards are a prominent part of sports, usually to protect the teeth and gums from injury. Some athletes, though, wear them because of their teeth grinding habit. Tara Lipinski, world renowned figure skater and media personality, keeps hers on hand to wear at night even when she travels. And Milos Raonic, one of the world's top professional tennis players, wears his during matches—the heat of competition tends to trigger his own teeth-grinding habit.
These kinds of mouthguards aren't exclusive to celebrities. If you or a family member contends with this bothersome habit, we may be able to create a custom mouthguard for you. It won't stop teeth grinding, but it could help protect your teeth—and your smile.
If you would like more information about protecting your smile, please contact us or schedule a consultation. To learn more, read the Dear Doctor magazine articles "Teeth Grinding" and "When Children Grind Their Teeth."
By Michigan Periodontics & Implants
May 19, 2018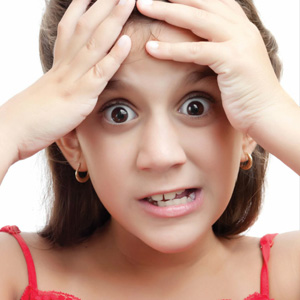 "What can I do about my child's teeth grinding habit?"
It's a common question we get from many concerned parents. Their exasperation involves more than having to wake every night to the annoying sounds coming from their child's bedroom: they're also worried about any potential damage occurring to their teeth.
Teeth grinding and similar habits fall under the umbrella term "bruxism." In basic terms, bruxism is the involuntary movement of the teeth and jaws not engaged in regular functions like chewing, speaking or swallowing. Bruxism is actually common among pre-adolescent children, considered by many healthcare professionals as normal behavior like thumb sucking.
It's not fully known why children grind their teeth, especially during sleep. Stress can play a part, but many believe it could also be related to immaturity on the part of the neuromuscular system that controls chewing. In some cases it could be linked to sudden arousals from sleep, particularly if the child is prone to airway obstruction causing sleep apnea. And there may be a link with certain medications, especially for hyperactivity disorders like attention deficit hyperactivity disorder (ADHD).
Most children eventually outgrow the habit. If it persists, though, it can contribute to teeth problems. Teeth can withstand a lot of biting force, but when chronically exposed to the higher than normal forces produced during teeth grinding they can begin to wear. Sodas, fruit juices, sports drinks or similar acidic beverages complicate matters because they increase mouth acid that can soften enamel. And besides dental issues, teeth grinding can also cause jaw problems, ear pain and headaches.
If symptoms begin to appear, we can take steps to reduce the effect of teeth grinding, such as a mouth guard worn at night to reduce biting forces and protect against wear. We can also look at curbing consumption of acidic foods and beverages, addressing possible airway obstructions, changing medications or counseling for psychological stress.
As with thumb sucking, there's no cause for immediate alarm if your children grind their teeth. But if it continues on into their later childhood years or begins to affect their health and well-being, we'll need to intervene to prevent further harm.
If you would like more information on teeth grinding and similar habits, please contact us or schedule an appointment for a consultation. You can also learn more about this topic by reading the Dear Doctor magazine article "When Children Grind their Teeth."